History: The presentation sword to Siam

0



| | | |
| --- | --- | --- |
| | The presentation sword to Siam (Thailand) | |
The Tachi presented to His Imperial Highness Aronkotto of Siam

Japanese-army minister Kazushige Ugaki presented this Tachi to His Highness Prince Aronkotto of the Siam (Present: Kingdom of Thailand) chief of staff. This Tachi is the structure which imitated the "Marshal sword."


The blade imitates "Mukadegiri-maru". The Mukadegiri-maru is a legendary celebrated sword.
Major General Tsuneyoshi Murata developed the Murata-to by making the Mukadegiri-maru into a model.

The mounting of polite structure. The lacquer work of a vermillion-painted scabbard is splendid.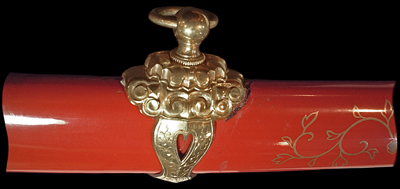 Kazunari Ugaki army minister





Tachi-mei: Presentation, Siam chief-of-staff His Highness Prince Aronkotto,      Japanese-army minister Kazushige Ugaki


Ura-mei: November 3, 1929, Japanese Special Steel Llimited-partnership
     President doctor of

engineering Saburo Watanabe Kinsaku (Signature)






1
Presentation sword table of contents



                
  The presentation sword to Finland (3p)  The presentation sword to the Royal Air Force surgeon







To the top of a page

▲